For years, I worked in the financial team of a large AEC firm. We had over twenty people running the accounting functions that kept the business ticking over. If I reflect on what actually made a difference at the end of the day, I believe there are really only three things to focus on to ensure a thriving practice:
Ensure our project fee covers our project costs
This article will cover the second item. Follow the links above to read about the other focus areas.
It all starts with a profit inherent fee

There are only two areas to worry about when calculating your project fees to ensure profitability:
Budgeting - we need to, at the very least, understand what the job will cost us to deliver and make sure that the fee is larger than the cost.
Tracking Changes  - the single biggest eroder of profit in built environment professional service firms is the inability to charge for scope changes.
Our personalities are such that we tend to prefer solving our clients' problems (e.g. moving on to the fun design work) than spending time ensuring our fees (and other project administration) are robust and suitable for the job. However, we can vastly improve our practice's profitability if we just get into the habit of doing a proper budget before the job starts and being careful about tracking variations to the original scope. 
Initial fee calculations: bottom-up costing
When evaluating potential jobs (find out how) we need to make sure we 'qualify of leads' - i.e implement a go/no-go evaluation process that includes the establishment of a scope of services and the associated cost budget to deliver them. 
Let us flesh out the steps involved in determining the scope and budget and fee:
1. Firstly, understand the problem you are solving for your client and the value that you are providing them. Try and quantify (in money terms) the value-add to them. You can read more about this process here.
2. Establish the scope of services (what you will and won't do) to deliver that value. It may help to have a standard check-list of services that can be included/excluded on each project. If you don't already have a list of services, a good starting point is the RIBA Standard Services which are included in the RIBA Contracts (and cover a variety of project types, e.g. domestic, standard, principal designer, client adviser, interior design etc)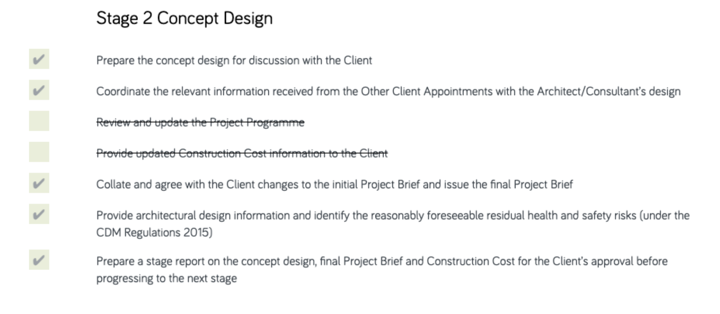 3. Estimate what it is going to cost you to deliver the scope of services, including:
Labour costs: hours per person multiplied by their cost rate (include overheads and non-productive time)
Other Costs: sub-consultants, prints & plots, travel, etc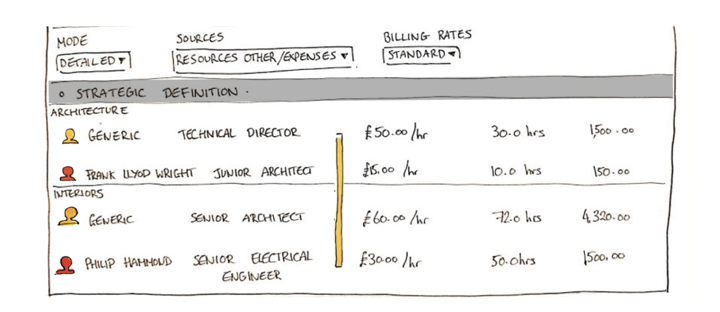 If the cost to deliver is more than the value-add, consider carefully if you wish to continue with the project - as these are often the problem projects (your client feels they are paying too much and you feel you are doing more than what you are getting paid for). 
4. Calculate the fee which should, at the very least, cover your costs.  
5. As a sanity check, compare the fee you have established to :
 total project construction cost. The Fees Bureau publishes data on industry averages. But be careful: just because everyone else is charging 6% doesn't mean it is the right fee.
previous similar projects (and check if you actually made a profit on those projects)
the value-add you are providing (from step 1)
6. If the client feels the fee is too high, establish what items in the scope of services can be excluded. Do not simply discount the fee and hope for the best.
Managing Scope Creep
In our experience (our database has over 50 000 projects), most projects are profitable during the early design stages but tend to fall apart during construction. The graph below is a typical example of how costs during construction/closeout completely wipe out any profit that may have been earned earlier in the project (the grey bars represent the fee and the blue bars the costs):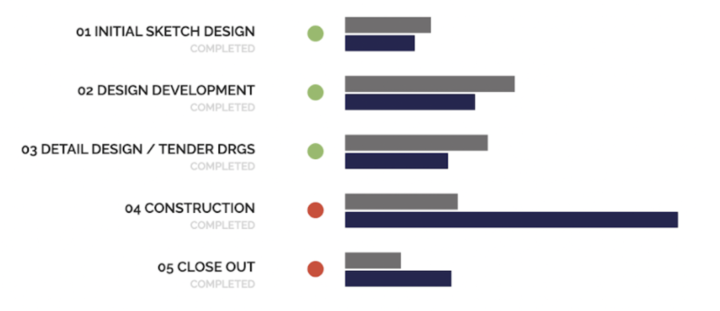 The main cause of cost overruns is usually scope changes or variations. Keeping track of these changes is vital. Tracking scope creep requires a significant cultural shift in our practice - it is not something we naturally like doing. However, the benefit of instilling an awareness of scope changes is hugely beneficial to profitability. Here are the steps to managing scope :
Make sure all staff are aware of the initial scope for each project. Share the scope of services document that you signed with the client with your team to ensure visibility 
Teach all employees how to identify if a request falls outside of scope - and to feel encouraged to do so. Make sure everyone (even the most junior staff) understands the impact of scope creep on them (i.e. if the project doesn't make money, the practice won't make money - which results in lower salaries!).
Track time and costs on additional work separately to the time and cost of the standard services. Not only does this allow us to identify scope creep sooner, but it also gives us an evidence-based approach to be able to discuss additional fees with the client.
This will not only result in the original project stage remaining within budget, and therefore maintain its profitability, but also allow us to recoup fees on the additional work that is undertaken.
To find out more, read our latest guide on managing scope creep.
Managing Cash Flow
Hopefully, we have demonstrated that to run a successful practice, it is critical that we don't spend more on delivering our projects than what we charge our clients. This is an obvious and fundamental issue that many architects ignore.
However, even if fees are calculated correctly and variations are tracked successfully, it is still very possible to go out of business if the client isn't invoiced early and debt collected quickly. Find out more about the final step to running a profitable practice in our next article.