When we started Fresh Projects in South Africa in 2014, one of our 'clever' features was a built in fee calculator based on published fee guidelines. Over the years we have supported the following fee guidelines in our embedded fee calculators:
SACAP 2012
SACPCMP 2012
ECSA 2014
ECSA 2015
SACAP 2015
SACQSP 2015
ECSA 2016
SACAP 2020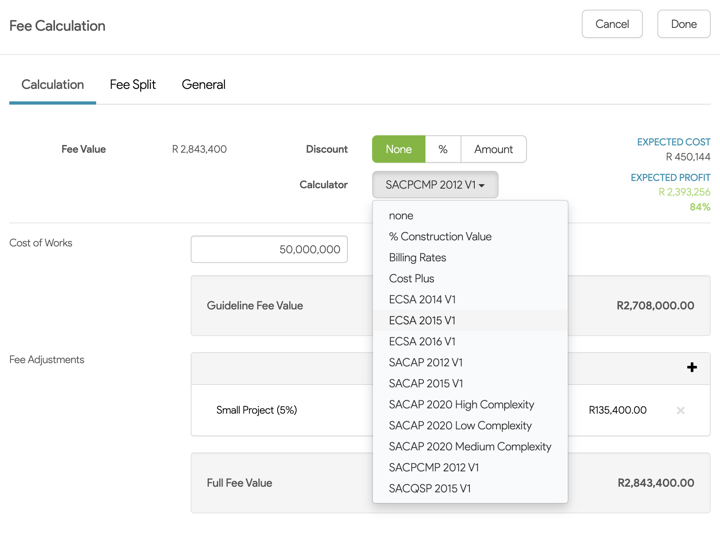 But having worked closely with hundreds of engineering, architectural, quantity surveying and project management firms over the past 8 years, and seen first hand the impact of fee guidelines on their project profitability, we have decided to no longer support guideline based fee calculators in Fresh Projects.
Over the years, we have been a vocal critic of Fee Guidelines - we strongly believe that they are "the root of all evil" in our industry. They are the reason that professionals fail to budget properly, They are a mechanism that developers and clients can abuse to take advantage of the professional team. They are not based on any meaningful source data - but are rather a byproduct of an 'arms race' between the various professional bodies in our industry.
By providing the guideline based fee calculators within Fresh Projects we are being hypocritical. We tell all our clients that they should avoid fee guidelines, but yet we make it effortless for them to calculate their fee using a guideline.
Fresh Projects fundamentally exists so that built environment professionals can:
confidently determine the true cost to deliver a job
confidently calculate a profitable fee, based on the above cost to deliver, and
confidently track their actual cost (and billing) against their budgets
We do this, because our mission is to make our industry financially lucrative. So we can attract and retain the best talent while doing the jobs we love.
So, from early 2023, Fresh Projects will no longer support any guideline based fee calculators from within the app. We will continue to provide the Cost Plus and Billing Rate Calculators. Additionally, if you wish (or are forced) to calculate fees using guidelines, you will be able to do so outside the app and capture the calculated fee value against the project inside Fresh Projects - which can then be tracked against your ongoing costs and billing.
As Fresh Projects has expanded to International markets (UK, AUS, NZ, Canada and USA) we have seen how our clients in those regions are far better off using a "bottom up" approach. We truly believe that if the entire industry in South Africa were to stop using fee guidelines, like the best practice we see elsewhere in the world, we would all be far better off. We hope that through removing the fee calculators from our app, we are - in our own little way - helping the industry take the first step in the right direction.
Simon Berry
Founder, Fresh Projects